Program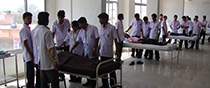 N.O.C. Raj Govt., Jaipur
N.O.C. R.U.H.S., Jaipur
Society Reg. Certificate (Udaipur)
N.O.C. Indian Nursing Council,
New Delhi
Contact US
Sanjeevani College of Nursing
Hiran Magari secter 4,
Near Hotal Rohan Palace
Manwakheda,
Jhamar Kotra road,
Udaipur, Rajasthan
313002
Nursing is a highly regarded profession that provides services, which contributes to the health and well being of individual and society.

Nursing care involves specialized skills and application of knowledge in helping individuals and groups to determine and achieve their physical, mental, social potential based on an education that has both theoretical and practical components. Scope of nursing is getting broader day by day nationally andB.Sc. Nursing is a four years Program under the affiliation .....
readmore...

Program
Internationally according to changing health needs of the society. Roles of nurses' encompass a wide range of activities from basic physical, mental...
readmore...